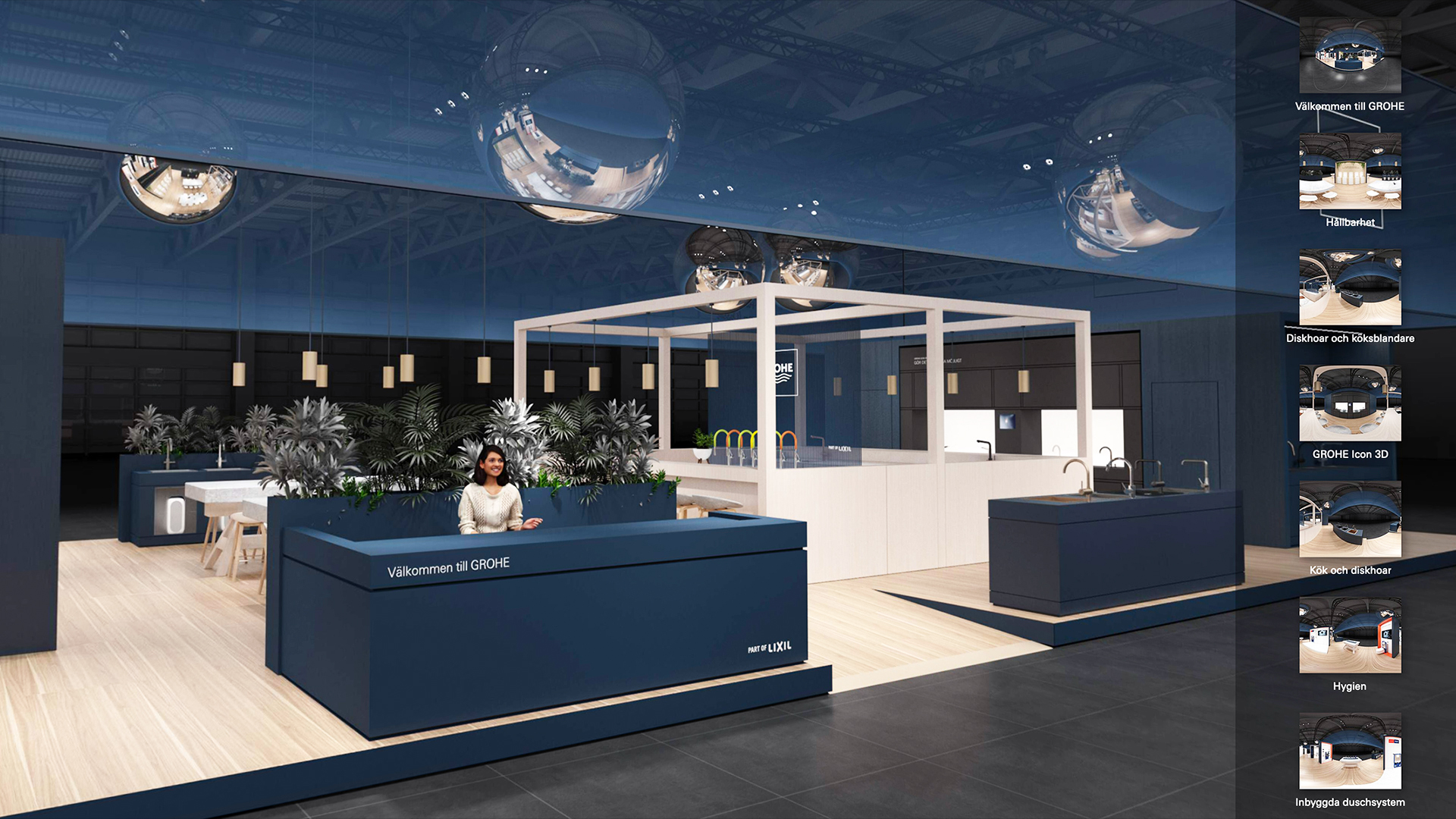 Our virtual tour of the trade fair for Grohe
The Nordic construction trade fair Nordbygg in Sweden has been postponed until next year at short notice. To provide the product innovations of our customer Grohe with a stage for this market until then, we have developed a virtual trade fair stand, with a realistic photographic tour of the planned stand architecture and a wide variety of interactions.
Grohe is presenting its product innovations and services in a trade fair look that has been created from the corporate design elements. Visitors are able to experience a virtual 360-degree tour which is almost the same as being live on site. Stylistically, they are in exactly the same brand environment, which we designed as a staging of the "Pure joy of water" claim for the leading ISH trade fair. The holistic nature of the solutions for bathrooms, kitchen systems and intelligent water management are highlighted especially strongly here.
The realistically-displayed products can be viewed and compared from all sides using the zoom function. Product videos with vivid demonstrations and explanations by developers and experts provide the virtual trade fair stand with an in-depth level of content. The digital space comes to life due to its design with considerable attention to detail – the only thing that we still have to work on is the function of the virtual coffee bar.
Virtual tours with synergy effect
We originally developed the first virtual solution prior to the ISH 2019 trade fair. At the leading international trade fair for the industry, Grohe presented more than 500 new products in the brand world that we redesigned – a challenging task for everyone involved. The virtual tour was used as a supplementation and an effective module for the preparation and training of the several members of the Grohe staff team at the stand. In a joint training tour of the spacious stand, the team was introduced to the trade fair presentation as a whole in advance, and given the opportunity to prepare for the temporary working environment. The virtual Grohe ISH Tour allows the trade fair architecture to continue to survive digitally today, and enables valuable synergies for the further development of the company's virtual worlds.

Project

grohe, Nordbygg 2020