An inspiring work environment that promotes creativity and a heightened sense of identity – guided by this vision, the temporary exhibition in the Halftime Gallery in Herzogenaurach blends cultural heritage with current events. Our sixth exhibition since 2019 features HER – from the 70s to today. And looks at female top athletes or fashion icons – and their role as a driving force for social change.
Who runs the world? Girls! Confident, loud, and diverse – these traits provide the context for a wide range of adidas collections to be exhibited.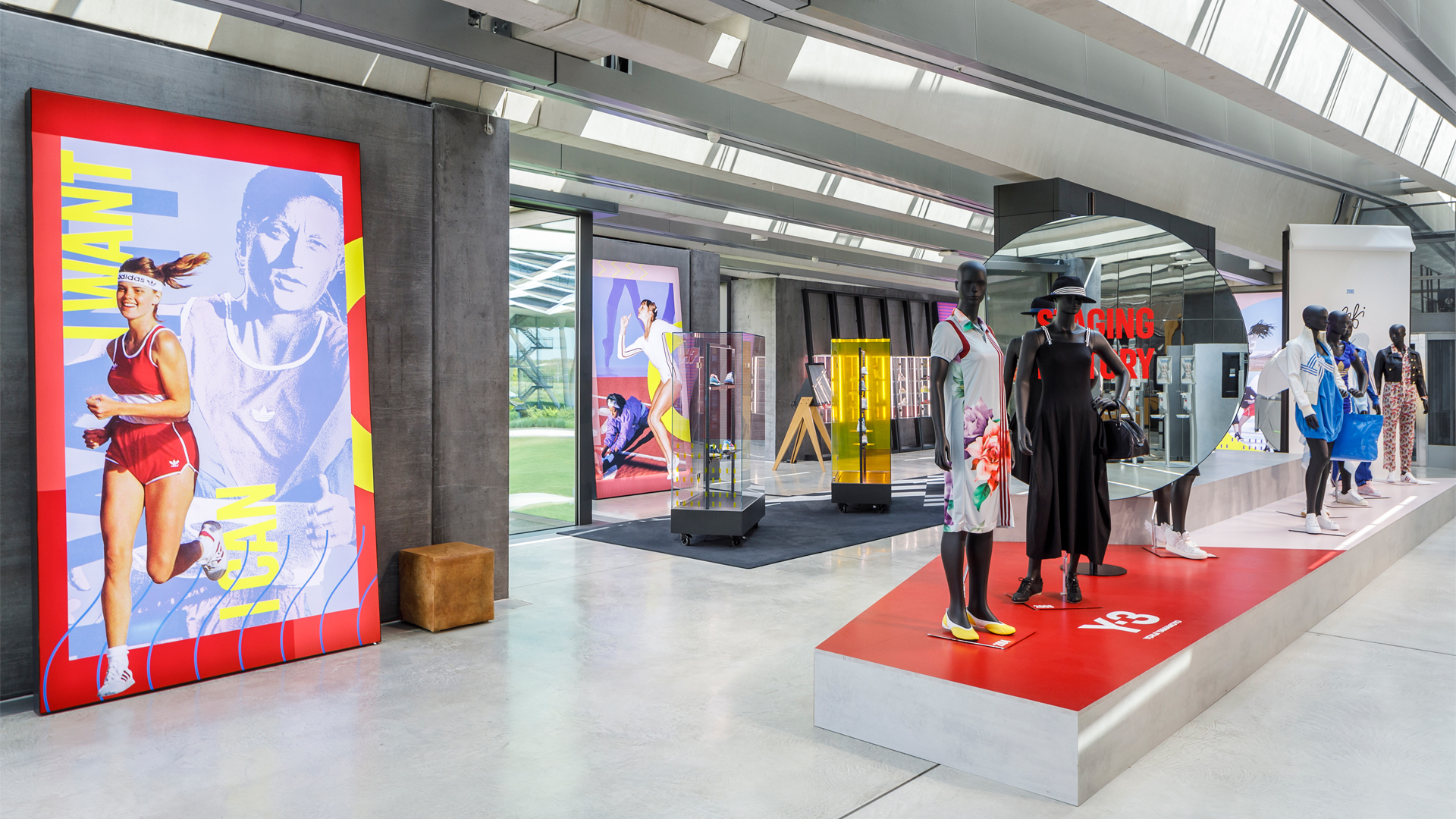 Here, dialogue between old and new inspires the main design theme. It's a visual fusion of the most extraordinary creations from the last 50 years – with current collections shown as a continuation of historic product lines. All presented on a platform styled as a catwalk and photo studio. A journey through the history of adidas design – an interplay between fashion and sport.
The exhibit is bursting with color, light, and shape. Illuminated tinted glass panes create an atmosphere that feels summery and alive. The circular form is used as a design tool throughout the exhibition. Soft materials such as sheer drapes transport color and accommodate curved forms. Recurring patterns add to the dynamics on furniture and graphics.
From a content perspective, a boutique enclave within the exhibition embodies the mega trends: self-care & diversity. The current adidas campaign 'Support is Everything', already well-recognized in social media, has also been included in the exhibition. The 'Bra Revolution' collection, launched at the beginning of the year, includes 43 new models that are tailored to a wide variety of body shapes and needs.
"Our goal is to convey our historic adidas values and connect them with today. Loud, proud, brave. With the right partner at our side, this is clearly reflected in our "Women in Sport and Style" exhibition.
ProjeCt

adidas, halftime GALLERY WOMEN 2022

photography

Lukas palik fotografie