Stories in marketing – like those in books or films – often continue to captivate their audience long after they've been heard. Companies that use storytelling well create enjoyable entertainment that, often as not, is only loosely related to their product. That's because it is not the "what" but rather the "why" that leads someone to a brand. The goal of storytelling is to present information, values, and events as vivid, graphic stories that let audiences relive the experience, again and again.
The goal: To design an exhibition located in the foyer of the award-winning "Halftime" multi-purpose building. In so doing, connect the extensive history of adidas with the present – and the future. And to explore the "we" of the sporting world. In other words, find the connection between everyone who believes in the life-changing power of sports.
Our response: To create an adidas family exhibition. A hero's parade. A universal history of the sporting world and the street scene. Presented as a multimedia, rotating Brand History Exhibition with artistic visualizations and exciting narratives.
The challenge: To attract visitors' attention to this particular spot despite its position in a busy physical crossroads. This, we solved, by dividing the foyer up into content-consumption areas based on how long visitors would be likely to spend there. And naturally by featuring engaging content.
"People aren't willing to be interrupted for 30 seconds. And yet they'll give up 30 minutes to listen to a good story."
Eye-Candy In the Halftime entrance, we expect passersby to have a 5-second attention span – roughly. Content here is therefore easy to consume: Striking photographic collages on large-format artboards using concise graphic design entice visitors. Together with short video clips these tease the exhibition's theme – even for visitors passing quickly through.
Focused Story In the waiting areas, content of up to 15-minutes in length is a good fit. Here, we feature our mini stories. Accompanied by exhibits and signage, visitors are encouraged to dive deeper into results and their contexts. The designed-for-purpose display cases offer flexible positioning of physical objects. Within them the exhibits float almost freely in space and let visitors get an up-close view.
Deep Dive The in-house food bar naturally attracts visitors who stick around for a while. Here, digital content invites them to linger and enables deep-dive content sessions of up to 30 minutes.
Surprisingly, even in an age when communication is omnipresent, individual stories still attract the most consumer interest – unique, concrete, and relatable situations in an emotional setting. For most of recent history, brand management has been firmly product-based. Storytelling offers a different approach – one that's based on human emotions. And because these stories are inspired by life itself and carry so much personal meaning, they're especially powerful in the context of brand management. They're credible, build trust, provide behind-the-scenes insights, and ultimately build a brand following.
For each exhibition, we curated a selection of events from the history of sports – in close cooperation with 'The adidas Archive'. These were then connected with the current sporting world. We always look for extraordinary moments that showcase the power of sports and align with adidas' purpose: "Changing lives through sports." Why? Because so many epic sports legends across history have demonstrated that sport is about much more than winning medals.
Take, for example, the 1936 Olympic duel between Owens and Long in the long jump – when Long's motivational words and tips led to his opponent's victory – resulting in a close friendship that moved the whole world. Or the match marketed as a 'Battle of the Sexes' when, in 1973, the woman's tennis champion Billie Jean defeated a man in front of around 30,000 spectators (the second largest crowd ever for a tennis match). And setting new standards for gender equality in sports.
"Messages can be repeated a hundred times. But they'll be ignored unless they make an emotional impact."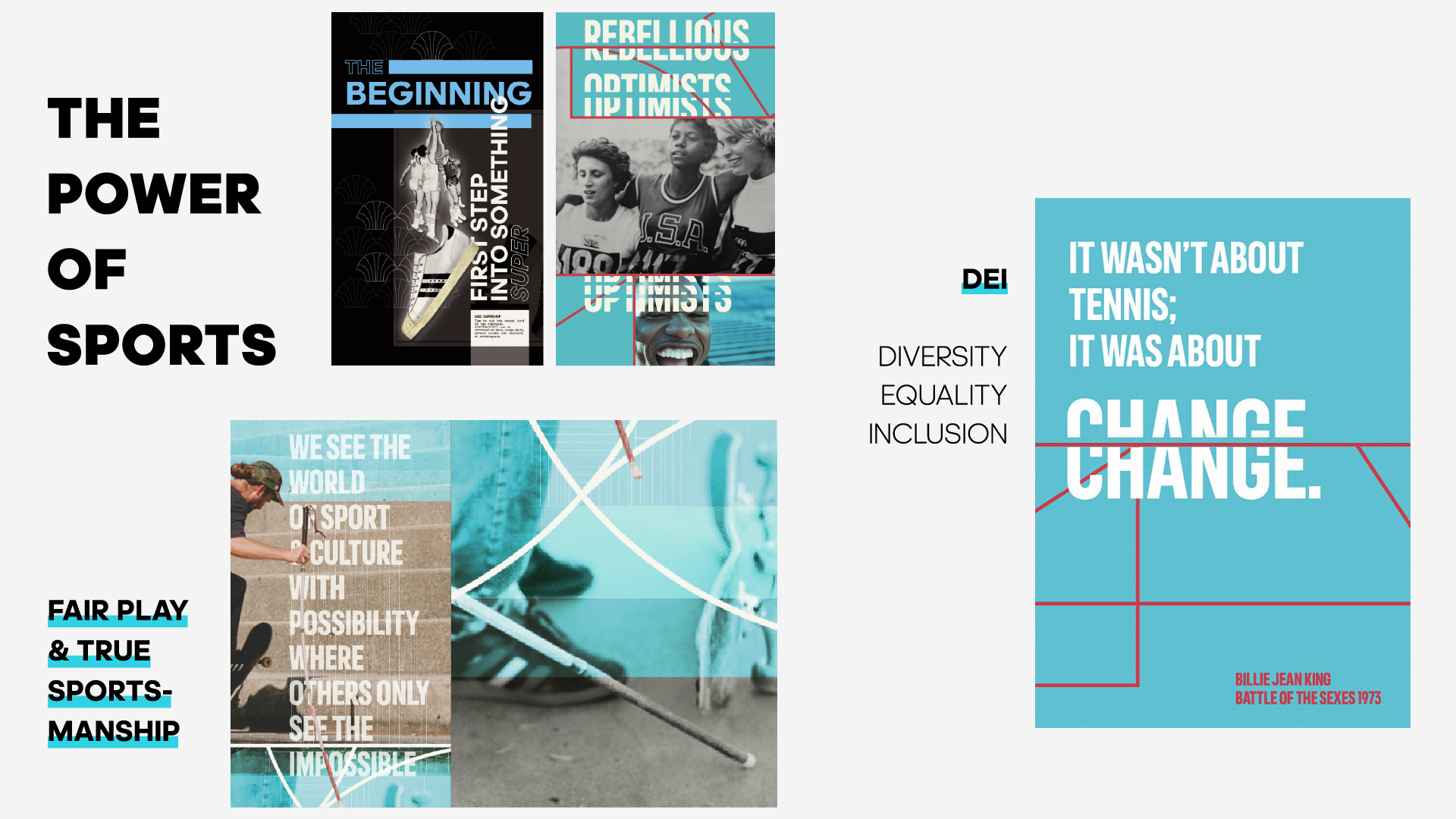 It's the sixth time we've restaged our temporary exhibition concept for adidas Halftime – this has covered themes like: 50 years of superstars, 70 years of adidas and the European Football Championship in 2021. The brand experience spectrum ranges from historical exhibits to the staging of new acquisitions and future product launches.
Ultimately, what's emerged is a dynamic space that connects people and a brand with social relevance. And makes it clear to employees that they're part of the ever-evolving history and mission of the best sports brand in the world. This is an exhibition self-aware enough to know it's part of a process but bold enough to be a constant source of inspiration.
ProJeCt

adidas / halftime gallery

Category

Temporary exhibition

PhotographY

Lukas Palik Fotografie